Introduction
In the hilly state of Meghalaya, reaching remote health facilities has always been a logistical challenge. The rugged terrain and poor road network infrastructure have made it difficult to deliver medical supplies to these areas, and people have suffered as a result. To ensure access to quality healthcare for all, the government of Meghalaya through Meghalaya Health Systems Strengthening Project (MHSSP) initiated the innovative use of drones to address this issue. Drones are expected to provide a more efficient and effective means of transportation for medical commodities, including vaccines, medicines, diagnostic samples, blood units, and other supplies.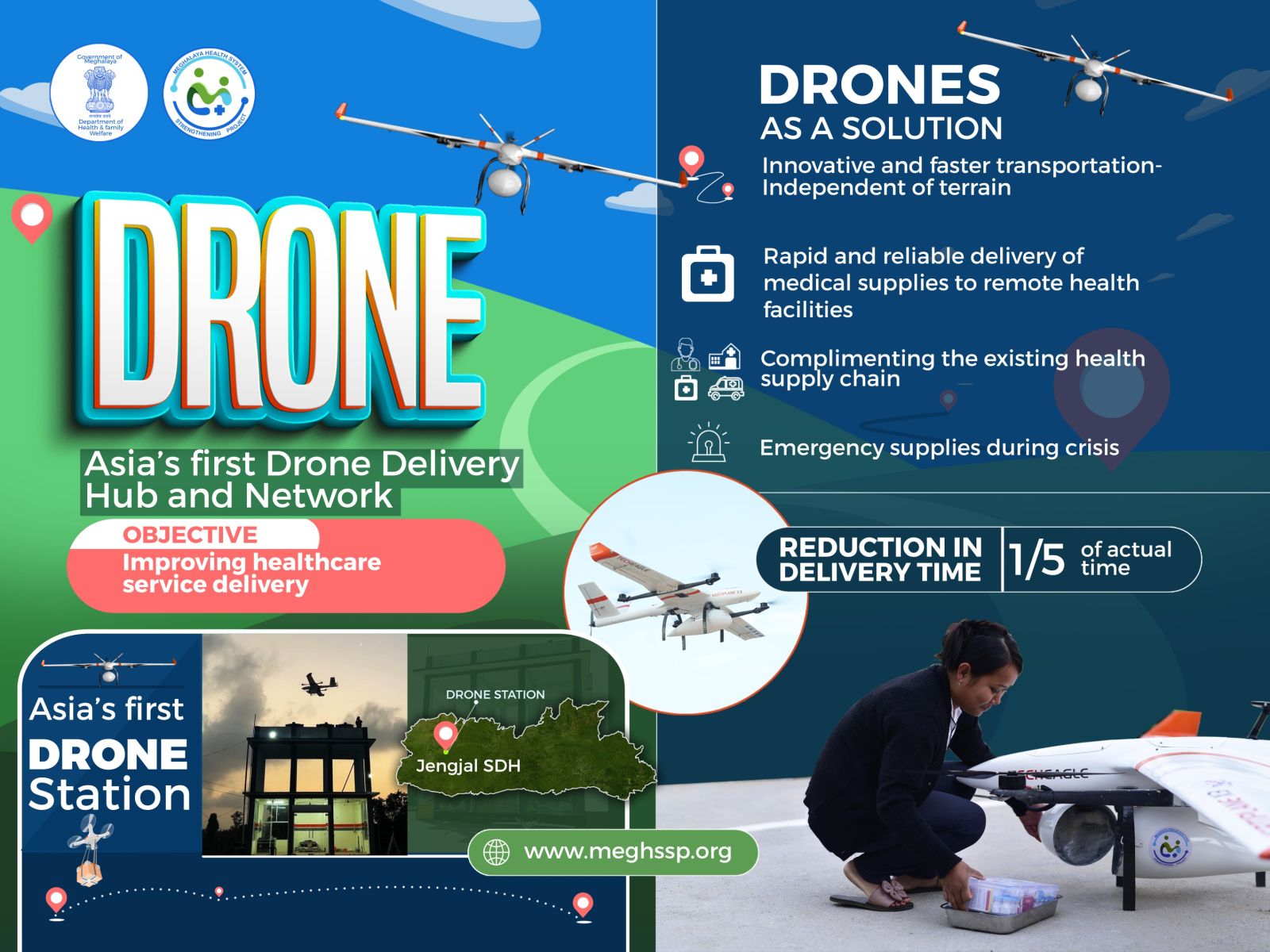 India's First Drone Station
On 5th December 2022, the first of its kind drone station in India was unveiled at Jengjal Sub-divisional Hospital in West Garo Hills. This drone station will serve hard-to-reach health facilities within a 50 km radius, providing routine and emergency deliveries of medical supplies. Depending on demand, the number of flights expected per day will be between 5 to 8.
The government plans to scale up the project to cover all remote health facilities in the state by setting up similar drone stations at strategic locations that will integrate with the existing public health supply chain. This bold move aims to make healthcare accessible to every citizen of Meghalaya, regardless of their location.

Outcomes
Extensive demonstration of the capability of the drone in terms of consistency, precision and delivery.
Reduction in delivery time by 1/5th of the actual time needed. (3-4 hours by road reduced to 30 minutes one way)
Demonstration of reverse logistics where Blood samples have been tested and reports shared within an hour of blood collection.

Way Forward
25 facilities to be covered by March of 2023.
An upgraded version of the drone with a payload capacity of 25kg expected to be introduced in the year 2023 subject to approvals of Ministry of Civil Aviation.
On complete approvals, 4 drone stations can successfully cover the entirety of the State with exception to Red Zones where drones are not allowed to fly as per Liberalised drone rules.